News
February 6th 2020 - "Zygmunt Wujek - Artysta nietypowy" book premiere at Koszalin's Public Library
The premiere of Anny Gut-Czerwonka's book, or rather photo album, took place in Koszalin's Public Library. During the guests discussion the video material about Zygmunt Wujek's monuments and sculptures depicted here was presented as the background. The article about this event was written on Polish Radio Koszalin's website. The video material itself is available at my YouTube channel.
August 28th 2018 - Road's to Freedom Monument and Hourglass Sculpture

I've published temporarily versions of two new models. The first one is Road's to Freedom Monument located near Słupska Street on car park under Chełmska Mountain. The resulting model is another example of complicated terrestrial reconstruction of objects higher than man. The second model is the graveyard sculpture called Hourglass. In this case I was able to receive the geometry of dark and shiny surface from the top of sculpture. The author of both pieces of art is Zygmunt Wujek.
July 26th 2018 - General Władysław Sikorski's Monument

The monument of general Władysław Sikorski located on Victims of Katyń Square in Koszalin is now available here in 3D. Photos taken on March 18th and April 21st 2018 were used to recreate the geometry and generate the texture. Manual reconstruction of the top side was needed (the eagle's back and top of the column) and was performed in Blender. The model has been oriented to the North, but is not yet scaled. The final product is very detailed, however the light-shadow contrast lowers the quality of reconstruction.
April 29th 2018 - General Władysław Anders' Monument

Another monument from Koszalin has been added. Details haven't been yet described, as it isn't the final version. However, the monument can be now publicly viewed. The English version of this site is gradually uploaded.
Władysław Anders' Monument.
March 31st 2018 - Test version of website
The Virtual Sculptures and Monuments project is available for a narrow group of viewers for testing purpose.

The first published models are related to my master thesis which compares of two measurement methods and those are: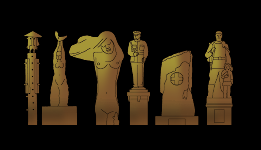 1. Girl with Mongoose.
2. Sculpture by Mirosław Jaruga.
3. Siren.
4. Marshal Józef Piłsudski's Monument.
5. Obelisk of Polish Red Cross.
6. Monument of Gratitude.